Former U.S. Homeland Security Secretary Ridge and former Federal Energy Regulatory Commission Director Bardee Join Electric Grid Resilience Advocacy Organization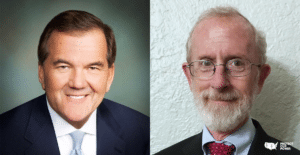 WASHINGTON, March 14, 2019 – The nation's first Secretary of the U.S. Department of Homeland Security, former Gov. Tom Ridge, and Michael Bardee, former director the office of Electric Reliability of the Federal Energy Regulatory Commission (FERC), have joined the Advisory Panel of Protect Our Power, the nation's leading organization that advocates for a more secure electric grid.
"We are deeply honored that Governor Ridge and Director Bardee have joined our panel that already includes nearly two dozen experts ranging from a former vice-admiral of the U.S. Coast Guard to former chief executive officers of both investor-owned and cooperative electric utilities," said Jim Cunningham, executive director of Protect Our Power (POP). "The organization continues to gain in stature as it works towards its goal of ensuring our power grid is better protected from all attacks."
POP is an independent, not-for-profit organization committed to bringing a sense of urgency and clarity to efforts to improve grid resilience and improving our ability to repel and recover from attacks on our electric system. POP functions mainly as a catalyst that works with industry, regulators and other stakeholders in identifying what needs to be done, in defining the process that assures it will be accomplished promptly and in identifying sources of funds to pay for needed improvements.
"Securing our nation's electric grid is a top national priority," said Gov. Ridge. "I have followed the progress of Protect Our Power from the organization's earliest days and I am delighted to formally join the prestigious Advisory Panel to help safeguard our nation's most important critical infrastructure."
"We must build a consensus for action in an environment that is complex due to the number of structural differences and varying concerns expressed by stakeholders," added Cunningham, former president of the Pennsylvania Electric Association. "We need agreement on the seriousness of the threat, developing winning effective strategies to repel threats, creating a culture of continuous improvements and aggressively embracing a process that will ensure needed timely action is properly funded."
"I have devoted a major part of my career ensuring the reliability of our electricity supply," said Bardee. "I am excited to continue that vital work by joining the Protect Our Power team."
Ridge, former governor of Pennsylvania, is chairman of Ridge Global, which provides clients with solutions to cyber security, international security and risk management issues. Bardee, also had worked at the U.S. Department of Justice before joining FERC, the regulatory commission, where he also served as general counsel.
POP maintains both 501c3 and 501c4 status. Its management team includes John Lang, chairman, former treasurer of Aetna, Suedeen Kelly, regulatory counsel, herself a former FERC commissioner, Richard Mroz, former president of the New Jersey Board of Public Utilities and chairman of the Committee on Critical Infrastructure of the National Association of Regulatory Utility Commissioners, and Paul Feldman, past chairman of the Midcontinent ISO and CEO of Columbia Energy and CEO of Utilicorp United.
Media Contact:
Steve Kerekes | Protect Our Power
skerekes@protectourpower.org
(703)-508-2550