Dear Chairman Walden and Ranking Member Pallone,
I am writing to you today as the Executive Director of Protect Our Power, a not-for-profit advocacy organization comprised of experts from the electrical industry, the physical and cyber defense communities, finance as well as former government officials. Protect Our Power was established to build consensus among government and industry to strengthen our electric infrastructure against all potential attacks, whether cyber or physical, and to develop the priorities and identify the resources needed for success.
On Wednesday, May 9, 2018, the House Energy and Commerce Committee will consider three pieces of legislation that will help to move the ball forward in finding solutions to protect America's electric grid. These bills include: H.R. 5174, Energy Emergency Leadership Act (Sponsored by Rep. Tim Walberg and Rep. Bobby Rush); H.R. 5239, Cyber Sense Act (Sponsored by Rep. Bob Latta and Rep. Jerry McNerney); and H.R. 5240, Enhancing Grid Security through Public-Private Partnerships Act (Sponsored by Rep. Bob Latta and Rep. Jerry McNerney). We applaud the Committee for moving these legislative solutions forward and would strongly support their passage.
We hope that the Committee will continue to pursue additional legislative proposals
that strengthen the Nation's grid against both physical and cyber threats. We commend the Committee and the bill sponsors for this positive step.
Thank you,
Jim Cunningham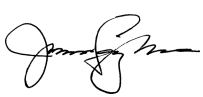 Executive Director of Protect Our Power
DOWNLOAD